Boost Sustainability with Vio Biodegradable Foam from Wincup
Customers at coffee shops have different needs and expectations than patients in a hospital cafeteria or students in a college dorm. The same goes for guests in a hotel versus diners at a restaurant. Yet sustainability seems to be an initiative rising to the forefront of each of these industries and the new Vio line from Wincup has the ability to make everyone happy.  These biodegradable foam disposables are filled to the brim with advantages that make them popular in different settings for different reasons by giving everyone plenty of reasons to love it. Let's take a look at this line and the many benefits it offers to the various market segments Johnston serves.
What is Vio?
Vio is a line of foam cups and bowls accompanied by lids and straws – all of which have been engineered to biodegrade at an accelerated rate over time.  The cups biodegrade 92% over 4 years, lids biodegrade 86.8% over 7.9 years and straws biodegrade 88.5% over 7 years.  At the same time, Vio delivers all the traditional advantages of foam — from superior insulation to low cost. In fact, Vio is the lowest cost disposable cup you can find when you're looking for green options. See the full lineup of products below: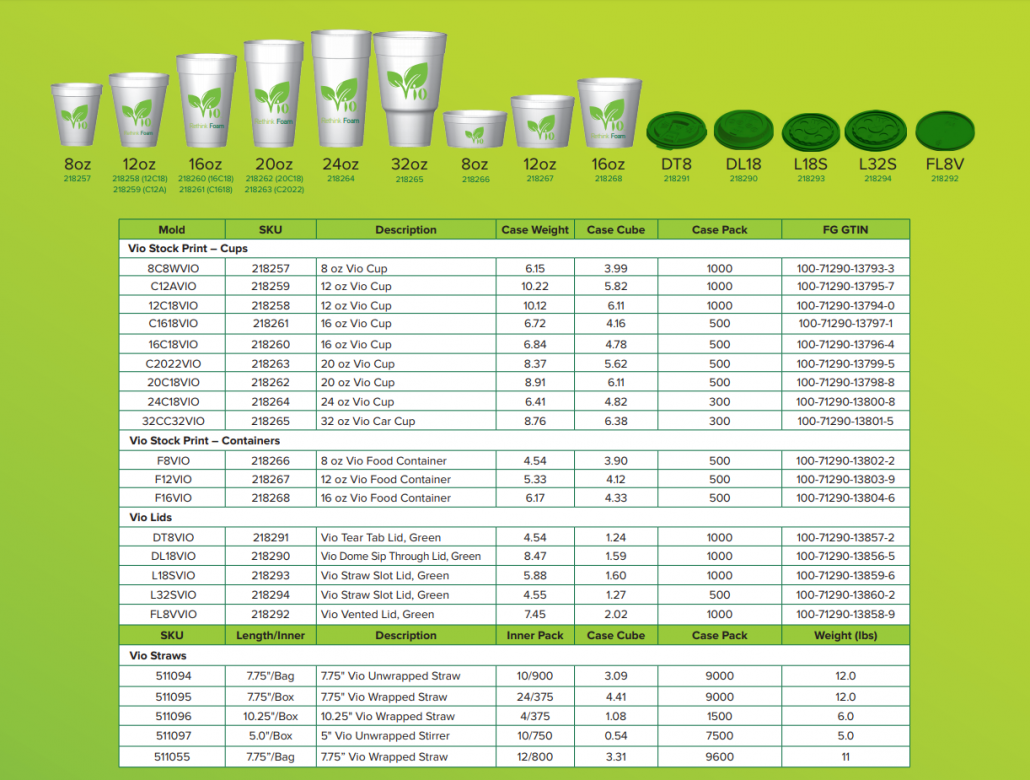 How Will Your Customers/Students/Patients Benefit from Vio?
Keeps hot drinks, soups & sides warmer, longer
Keeps cold drinks & sides colder, longer
No need for sleeves to handle hot drinks
Eco-friendly biodegradable message
Shows a visible response to student/customer/patient demand for greener practices
How Will You Benefit from Vio?
Lowest cost disposable cup of all the green options
Lighter boxes for easier handling & storage even on high shelves
Eliminates the need to supply cardboard sleeves
Can be custom printed with your logo or other branding
Clear evidence of your eco-friendly commitment
How Johnston Can Help
Johnston's experts can assess your specific needs at your facility and recommend the ideal product combinations to ideally serve your customers.  Outside of this unique packaging line we have a sustainable solutions for your cleaning needs as well and would be happy to show you all of the options available and assist in selecting the right ones for your unique situation.  Contact a Johnston expert today to get started.
About Johnston
Johnston has always stood for reliability, commitment, quality, and service. Our heritage means years of accumulated industry knowledge, the ability to see the bigger picture, and the know-how to determine the best possible approach. Combining this mastery with the drive to deliver exceptional results, Johnston goes beyond sales, developing strategic, end-to-end tailored solutions for each customer since 1881.