The Versatile Electrostatic Sprayer: The NSS Electro-Mist 4B
Electrostatic sprayers have become a disinfection tool of necessity across all industries.  The ability to reliably disinfect extensive surface areas (including hard to reach places) in less time than traditional methods has been the biggest motivator for investments in this technology.  The great minds at NSS have paid close attention to the feedback provided by users of early market entrants into the electrostatic cleaning space, and their new offering includes exceptional features that were lacking in it's predecessors.  To name a few, the Electro-Mist 4B offers:
Large 4 Gallon tank that allows for up to 2.5 hours of spray time per tank
Coverage of up to 22,500 square feet per hour
12 V maintenance free battery that provides up to 10 hours of runtime per charge
Durable stainless steel, chemical resistant construction
Optional 50-foot extended reach hose
To learn more about this high quality machine manufactured right here in the United States, Check out the recording below of our recent webinar:
Recommended Disinfectant
At this time, many disinfectants are in the process of certification to be run through electrostatic sprayers.  One that has already gained this EPA certification to be run through electrostatic sprayers is Oxivir TB from Diversey.  This product is available today through Johnston in effective sizes for use with electrostatic sprayers such as 1 gallon jugs (Item # 100898636), 5 gallon pails (Item # 101104055), and 55 gallon drums (Item # 101104053).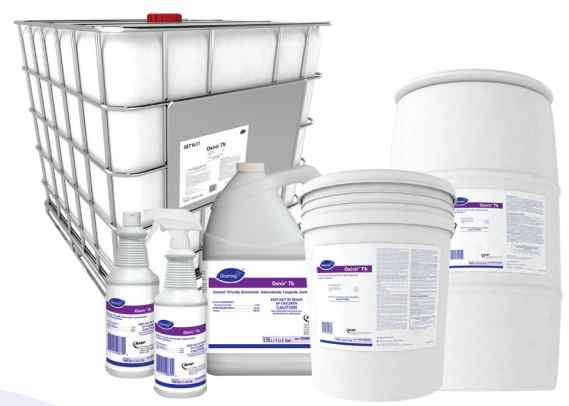 About Johnston
Johnston has always stood for reliability, commitment, quality, and service. Our heritage means years of accumulated industry knowledge, the ability to see the bigger picture, and the know-how to determine the best possible approach. Combining this mastery with the drive to deliver exceptional results, Johnston goes beyond sales, developing strategic, end-to-end tailored solutions for each customer since 1881.