Top Trends in Winter Facilities Cleaning
Winter weather brings with it many seasonal headaches and hurdles for facilities cleaning professionals to overcome. In terms of safety, you'll need a solution to prevent the buildup of ice patches and other slip and fall hazards.  That solution almost always requires introducing an agent that will get tracked into your facility from the entrance ways adding to the indoor maintenance responsibilities.  Luckily, by following some of the top trends in winter facilities cleaning you can ensure the safety of your staff and patrons while properly protecting the inside of your entryways.
Ice Melt Strategy: Utilize Granular & Liquid Options
Northeastern winters don't often come without a heaping helping of ice and snow.  High traffic facilities in this part of the county don't just stop welcoming patrons due to weather, and you need to be prepared to welcome them just as you would under more favorable conditions.  A proper ice melt program is essential to achieving this and ensuring the safety of everyone involved.  By properly deploying both granular and liquid ice melts in specified areas, you can drastically limit the amount of granular ice melts that get tracked into your facilities.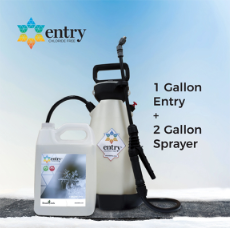 Liquid
Johnson has been seeing very promising results from a liquid Ice Melt called Entry from Secure Winter Products.  This product is best utilized directly outside of entrances to your facility extending at least 15 feet from the door.  95% of granular ice melt tracking occurs within 15 feet of a buildings entrance.  By breaking the bond in ice molecules and drastically reducing the freeze point of the liquid left behind, Entry clears the pathways immediately outside of your entrances without leaving behind the mess of a traditional granular ice melt.  It also provides a buffer area for granular products from the parking lot or connecting sidewalks to get tracked off before entering your facility where they can do corrosive damage to the floors.  Entry is also Chloride-free, environmentally friendly, and pet friendly!
Granular
Granular options are best suited for covering large areas such as parking lots and sidewalks leading close to entrance paths.  At Johnston we provide several options of granular ice melts which very in terms of melt points and environmental friendliness.  One of our newer products, Ally G, comes from the makers of entry (the liquid product mentioned above).  Their POD Deicing Technology is derived from a unique source that combines Sodium Chloride, Calcium Chloride, Potassium Chloride and Magnesium Chloride in a single homogeneous particle. The result is an extremely effective and uniformed deicing source that produces consistent and predictable results on surfaces. POD utilizes specific particle sizing to maximize melting capacity while quickly getting into solution to lessen tracking into buildings.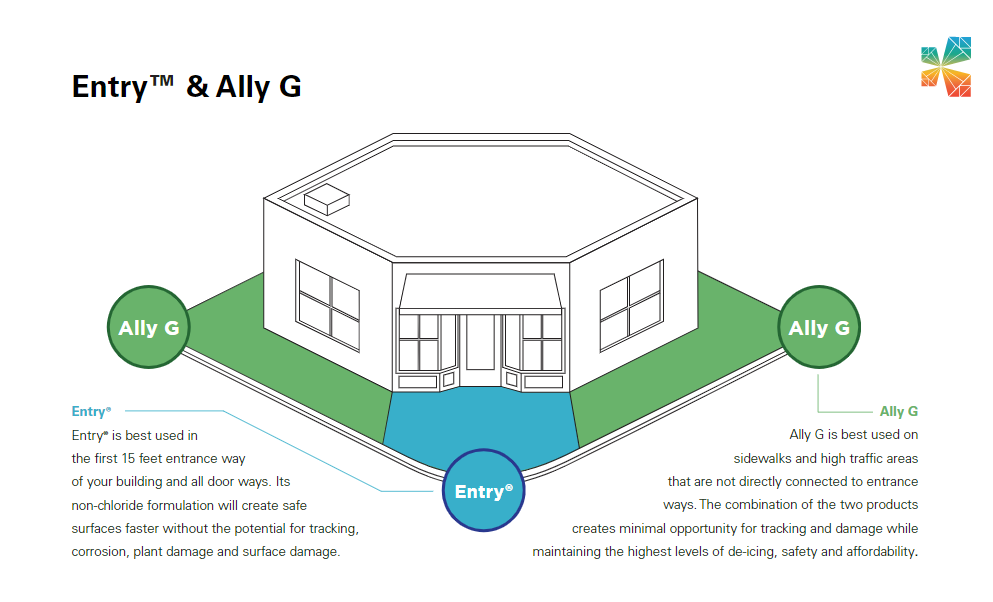 Matting is a Must
As an added protective element, matting is a necessary addition to your entrances. Consider the CleanZone entrance system from Mats Inc. to reduce the risk of slips and falls and protect your carpets and floors by trapping dirt & moisture at the entrance.  Keeping this mess from spreading throughout your facility can also lower labor costs and decrease the likelihood of needing to repair your carpets or floors. Best of all they can customize any mat size or type with your business' logo to provide an attractive welcome for all your patrons.  As a general guideline, we recommend the following mat types for each unique zone of your entrances.
Zone 1: Exterior

Outside the entrance, choose an aggressive scraping product that is as maintenance-free as possible.

Zone 2: Vestibule

Between the exterior and interior doors, choose a product that scrapes off soil and absorbs moisture.

Zone 3: Lobby

In lobby areas, nylon fibers offer optimal performance for additional moisture absorption. Polypropylene fibers are ideal for applications requiring additional debris removal.
Walk Behind Compact Floor Scrubber
Once you've got the mats, you'll need the ideal tool to take care of them.  We can recommend none better than the Karcher BR 30/4 C.  Perhaps the best part about this machine is its ability to seamlessly transition from hard floor to matting or carpet.  One of the biggest issues we see with matting maintenance is broken vacuums from employees trying to pick up lingering debris on a mat that is still wet.  The moisture can destroy the motors on traditional vacuum cleaners but the vacuum in this auto scrubber is built for exactly this task!
If you begin to see any white residue forming on your mats as they dry out, we recommend running a chemical called Concept 915 through this unit while treating the mats.  This is specifically formulated to neutralize and remove those white stains.
How Johnston Can Help
Johnston prides itself on providing exceptional products to suit your winter cleaning needs.  Our experts can help you assess your current situation and evaluate the best way to deploy new systems and processes throughout your facilities.  Johnston works with many exceptional vendors to deliver quality products, training and service to our customers.  In addition, our experts can help identify potential problem areas in your processes and help you to improve them through training, reinforcement and proper product selection.  Our team even offers laundry and warewash services as well as preventative maintenance programs where an expert from our team will check on your fleet regularly, keep it in great working order and inform you of any necessary maintenance or repairs.  Contact a Johnston expert today to get started.
About Johnston
Johnston has always stood for reliability, commitment, quality, and service. Our heritage means years of accumulated industry knowledge, the ability to see the bigger picture, and the know-how to determine the best possible approach. Combining this mastery with the drive to deliver exceptional results, Johnston goes beyond sales, developing strategic, end-to-end tailored solutions for each customer since 1881.