Spartan FoamyiQ
Dispenser Free Hand Hygiene
Did you know that over 50% of facility complaints are restroom complaints and 17-20% of those are regarding broken or empty dispensers?  In fact, the number one reason patrons break a dispenser is due to frustration over it malfunctioning or being empty.  Depending on if you have extra dispensers on site, consider how long it might take you to fix or replace a broken or malfunctioning soap dispenser in your facility? At the minimum, your going to need to completely remove the old unit from the wall utilizing, tools, connectors etc.  All of which would take at least 15-20 minutes.  On the high end, you may have to wait weeks for a new dispenser to be delivered.  All of these hassles and headaches can be addressed with the revolutionary new system from Spartan chemical: foamyiQ.
No More Dispensers
Never install or repair another dispenser
dispensing is done directly from the cartridge, there are no parts to replace, nothing to repair and no downtime for maintenance.
Never run out of soap
It's easy to see the soap levels through the foamyiQ dispensing cartridge, so you can simply replace the entire cartridge when the time is right.
Never stock another dispenser
foamyiQ eliminates the hassle and cost of storing replacement dispensers.
Never deal with a hand hygiene dispenser complaint again!
The Brilliantly Simple Alternative
foamyiQ is the result of years of research, customer feedback and product engineering.  By design there are no costly dispensers to install, maintain or repair and no refilling is necessary.  It's a simple as: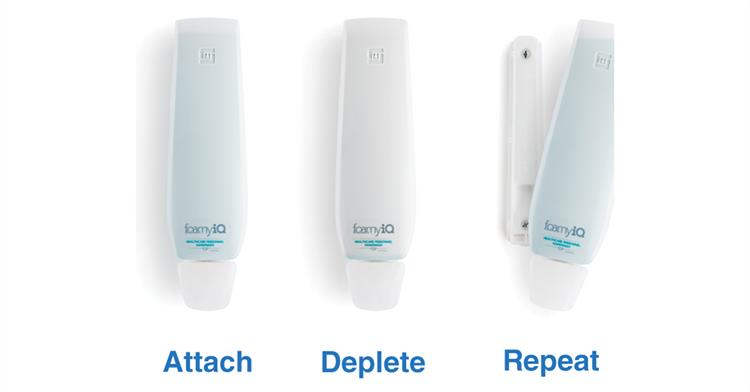 Benefits
Sustainable: Recyclable and made from 25% post-consumer recycled material.
Anti-Theft: Smartly designed with a secure, integrated locking mechanism.
Narrow Footprint: The slim design will fit where many traditional dispensers would not.
How Johnston Can Help
Johnston has access to the foamyiQ line through spartan and our experts can help you assess your current situation and evaluate the best way to deploy this system throughout your facilities.  Johnston works with many exceptional vendors to deliver quality products, training and service to our customers.  In addition our experts can help identify potential problem areas in your processes and help you to improve them through training, reinforcement and proper product selection.  Our team even offers laundry, warewash and preventative maintenance programs where an expert from our team will check on your fleet regularly, keep it in great working order and inform you of any necessary maintenance or repairs.  Contact a Johnston expert today to get started.
About Johnston
Johnston has always stood for reliability, commitment, quality, and service. Our heritage means years of accumulated industry knowledge, the ability to see the bigger picture, and the know-how to determine the best possible approach. Combining this mastery with the drive to deliver exceptional results, Johnston goes beyond sales, developing strategic, end-to-end tailored solutions for each customer since 1881.