Convenience Store Food Options Mean More Hygiene Risks
Dealing with the Increase of Bacteria and other Food-related Hygiene Issues
In today's fast-paced world, many consumers are turning to their local convenience store for a quick, and easy meal. Responding to this demand, several convenience store chains have expanded their hot and fresh meal sections. However, increasing convenience store food options mean more hygiene risks.
Large brands like 7-Eleven, smaller regional chains, and even local mom-and-pop stores all offer more options today than in the past. In fact, fast-food chains like McDonalds are hard-pressed to compete against convenience stores, who more and more are offering one-stop-shopping of meals, groceries, and often even serve as a gas station.
The development of new product offerings in food service brings increased danger of bacteria and other food-related hygiene issues. The good news is, simple preventative actions can keep these risks at bay.
For example, a study by the US Centers For Disease Control (CDC) found that only half of deli managers and food workers said their deli slicers were fully cleaned as often as recommended (every four hours). More frequent cleaning of deli slicers, the CDC says, will help prevent Listeria bacteria, which can cause very serious (and sometimes even fatal) food illness.
Most food prep surfaces should be cleaned after four hours of repeated use, though this four-hour rule is the barest minimum. Non-food surfaces like utensils and sinks cannot be forgotten either. Along with proper refrigeration and cooking times, more frequent cleaning will help minimize the risk of bacteria growth.
Perhaps most surprisingly, the CDC says up to a third of food-related infections might be prevented simply by more frequent hand-washing by employees (along, of course, with wearing protective gloves).
Help avoid food-borne illness while meeting the busy demand in your facility with Johnston. When you choose Johnston, you're helping your facility stand out above the competition. Our custom solutions include hand hygiene products, along with disinfectants and sanitizers.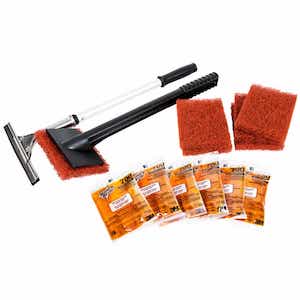 Johnston has a wide variety of cleaning solutions – from your grill station to your tile floor.  We'll provide a comprehensive detailed site survey of your facility, and develop a customized solution for all of your food safety and sanitizing needs. Using our product selection and industry knowledge, Johnston can meet your cleaning needs while remaining in your budget.
Learn more about how we can keep your food prep facility clean, and how we can create a custom solution designed specifically for your needs. Visit our contact page today at https://www.johnston.biz/contact.