One Step Cleaning and Sanitizing in Hotels
&

More
In the hospitality industry, there is no more important task than keeping your hotel rooms clean and your reputation spotless.  No matter how immaculate your housekeeping staff is keeping the appearance of your facilities, it can all be a moot point without a proper sanitizing program.  Luckily the brilliant minds at P&G professional have a solution to ensure 24 hour bacteria protection with the use of their Microban Products line.
24 Hour Protection
Microban has been developing antimicrobial technologies for more than 30 years, and now they are offering the only professional cleaning & sanitization product with EPA approved residual claims. Traditional sanitization/disinfection products may clean and/or disinfect, but do not keep working after initial contact leaving surfaces vulnerable to re-contamination.  In just 20 minutes, the number of microbes on a surface can double.  Microban technology provides 24 hours of protection from bacteria growth after application, even after multiple touches. This makes it an ideal product for everyday use in the hospitality & lodging industry to make sure your rooms and common areas stay bacteria free; however, these products are useful in many other market segments as well.
Suitable for Hard & Soft Surface Cleaning For Many Businesses
The Microban line is useful in far more than just hotels.  If fact, it can be used just about anywhere. The line consists of 3 products that cover all of the hard and soft surfaces you'll need to sanitize on a daily basis.  All of these products kill 99.9% of bacteria in 5 minutes, and keep killing for 24 hours after application. Most everyday surfaces you will want to clean and sanitize can be handled using Microban alone, while high touch, high grease/soil areas should be cleaned first with Spic & Span from P&G professional and then protected with Microban products.  Please keep in mind that Microban Products are not intended for use on food contact surfaces. See the below for which products work most effectively on each surface.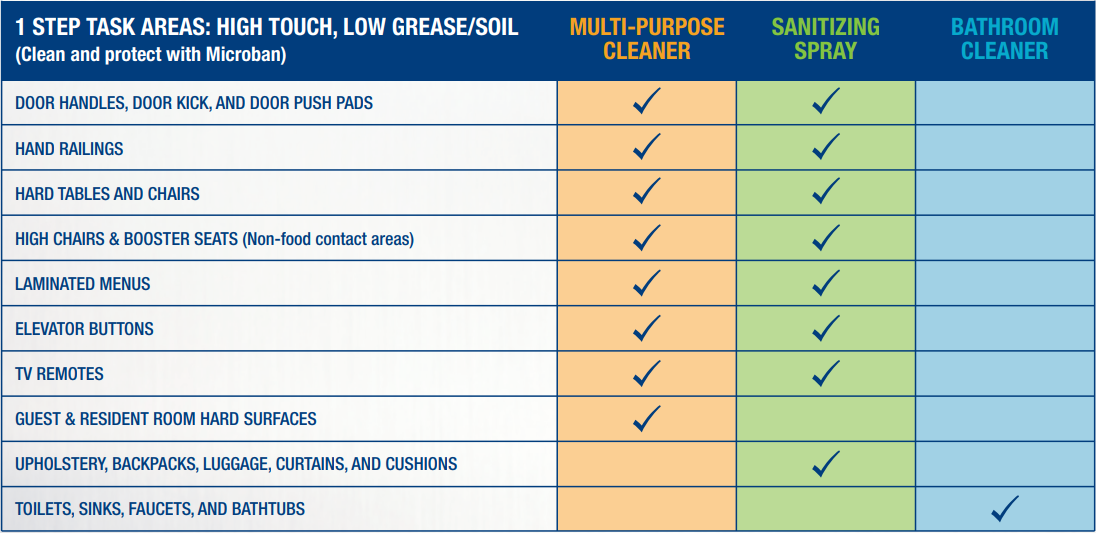 How Johnston Can Help
Johnston's experts can assess your current sanitizaiton methods and help set you up with microban products that may better that serve your needs.  In addition our experts  can help identify potential problem areas in your processes and help you to improve them through training, reinforcement and proper product selection.  Contact a Johnston expert today to get started.
About Johnston
Johnston has always stood for reliability, commitment, quality, and service. Our heritage means years of accumulated industry knowledge, the ability to see the bigger picture, and the know-how to determine the best possible approach. Combining this mastery with the drive to deliver exceptional results, Johnston goes beyond sales, developing strategic, end-to-end tailored solutions for each customer since 1881.