The Value of Branding the Restroom
Branding the Restroom Fosters School Spirit
Primary schools are tasked with providing a quality education to their students, but lessons learned outside of the curriculum are important as well.  The development of a sense of community and compassion for society as a whole would be a fine example of this.  Surprisingly products found in the restroom can play a role in instilling this sort of pride.
Schools around the country are seeing the positive effects of utilizing customized soap and paper dispensers in their restrooms to promote school pride as well as provide visual cues for students on the importance of restroom hygiene.  A school district in Thorp Wisconsin for example has their mascot (a cardinal) prominently placed on 50 soap dispensers throughout their one building campus.  They have the cardinal prominently placed in other locations throughout their facilities as well, but in the restroom, they have seen that it catches the eyes of students and makes them more likely to use soap – an action that is often lost on many. This visual reminder of what they are supposed to do helps them to learn and repeat. It has also been found that placing a simple logo on your dispensers can dissuade some from vandalizing or defacing them.
A Great Solution For Various Industries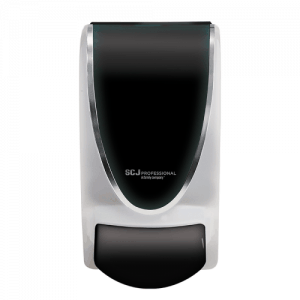 This unique solution is useful outside of education as well.  Many businesses in various industries are looking to utilize restroom fixtures to help take their marketing efforts to the next level.  Airports, restaurants, gyms, bars and professional sports venues are all prime candidates.  No matter the setting, customized dispensers provide you yet another opportunity to promote your brand at a very affordable cost.  It's generally far more expensive for an eatery, for example, to brand their bags and to-go containers than the items permanently displayed in their restrooms. Just about anyone can be active in this type of marketing.
Branding The Restroom with SC Johnson Professional
An excellent source for such marketing is the new line of translucent sided soap dispensers from SC Johnson Professional.  In addition to providing custom branding prints on your dispensers, the clear sides allow your staff to assess the amount of soap remaining in the dispenser at a mere glance.  This saves your janitorial workers time they would have otherwise wasted opening and checking all dispensers.  These dispensers are printed with stunning quality and can be turned around in a reasonable amount of time.
How Johnston Can Help
Johnston offers these products and many to sit your needs and our experts can help you assess your current situation and evaluate the best way to deploy this system throughout your facilities.  Johnston works with many exceptional vendors to deliver quality products, training and service to our customers.  In addition our experts can help identify potential problem areas in your processes and help you to improve them through training, reinforcement and proper product selection.  Our team even offers laundry, warewash and preventative maintenance programs where an expert from our team will check on your fleet regularly, keep it in great working order and inform you of any necessary maintenance or repairs.  Contact a Johnston expert today to get started.
About Johnston
Johnston has always stood for reliability, commitment, quality, and service. Our heritage means years of accumulated industry knowledge, the ability to see the bigger picture, and the know-how to determine the best possible approach. Combining this mastery with the drive to deliver exceptional results, Johnston goes beyond sales, developing strategic, end-to-end tailored solutions for each customer since 1881.