Three Game-Changing Food Service Innovations for National Food Day
Yesterday was National Food Day so we're shining the spotlight on three new innovative solutions in food warming systems, safe wrapped cutlery, and environmentally friendly food packaging.
The Sterno SpeedHeat Flameless Food Warming System
This revolutionary product is an instant, flameless food warming system that makes quick-serve, drop off catering safer, simpler and faster!  This product is ideal for business lunches, corporate meetings and home parties. Ideal for dining events lasting under 1-hour, this system utilizes a non-toxic flameless heat pack which when mixed with warm water allows you to set-up and serve warm meals in minutes.
How It Works
Step 1 – Open the SpeedHeat packets and place one in each tray reservoir
Step 2 – Fill each reservoir to the top with warm water
Step 3 – The packets will activate within 60 seconds and half trays can be added to each side
When finished, packets can be discarded with meal scraps and the tray can be recycled.  Check out more information on the Sterno SpeedHeat system by clicking here, or by watching the video below. SpeedHeat is available for purchase now through JMART by searching item# 70332S.
The Dixie Ultra® SmartStock® Wrapped Cutlery System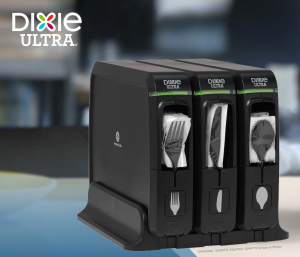 An innovative take on wrapped cutlery, this System helps reduce cost, increase food safety and increase efficiency. Wrapped only at the critical end, the cutlery uses 60% less wrap than fully wrapped cutlery, reducing waste and cross contamination. One-at-a-time dispensing helps reduce total usage and its compact size can help reduce storage needs by approximately 40%.  Each unit pairs together seamlessly depending on your needs and contains an indicator which switches from green to yellow to red as the need increases for a refill. The pre-loaded cutlery skewers reduce leading time as well.  It's no wonder this system is preferred by 88% of fast food patrons over open bins of wrapped cutlery.
The complete system is available for purchase through JMART now utilizing the following Item#s:
Dispenser – SSW3D85
Fork Refill – SSWPF5
Knife Refill – SSWPK5
Spoon Refill – SSWPT5
Fabri-Kal Plant Fiber Blend Containers
These Plant Fiber Blend Containers, made with a blend of silver grass and wood fiber, provide excellent performance for foods on the go.
Features and Benefits
Dependability
Unique plant fiber blend naturally holds up to wet, heavy foods
Molded for superior strength and stackability
Double-tab closure provides safety during transport
 Versatility
Waffle-board bottom keeps hot foods hot- and cold foods cold
Freezer safe, microwaveable and suitable for uses up to 300F
Environmentally Friendly
Made from silver grass, a renewable resource that grows back each year requiring minimal care and water
BPI certified to be 100% compostable in industrial facilities
This great new product is available in 6 sizes and can be found in JMART using the following Item#s: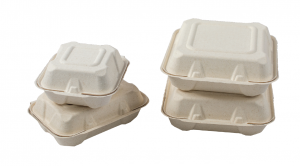 6″x6″ 1 Compartment – NP661
8″x8″ 1 Compartment – NP881
8″x8″ 3 Compartment – NP883
9″x6″ 1 Compartment – NP961
9″x9″ 1 Compartment – NP991
9″x9″ 3 Compartment – NP993
How Johnston Can Help
Johnston offers all of the products above in addition to thousands more to meet your food service and cleaning needs.  Our dedicated specialists can help you identify the products and processes that are most suitable to your unique business needs.
Contact a Johnston expert today to set up a time to meet and discuss your wants and needs.
Visit our contact page today!
About Johnston
Johnston has always stood for reliability, commitment, quality, and service. Our heritage means years of accumulated industry knowledge, the ability to see the bigger picture, and the know-how to determine the best possible approach. Combining this mastery with the drive to deliver exceptional results, Johnston goes beyond sales, developing strategic, end-to-end tailored solutions for each customer since 1881.