The Kris May Golf Course
Johnston Sponsors The First Tee of Syracuse Golf Complex at Butternut Creek
What is The First Tee?
The First Tee is an International Youth Development Organization, whose mission is to help shape the lives of young people from all walks of life through the game of golf and educational programs that build character and promote healthy choices.
The First Tee organizations are active on golf courses within all 50 states and within select international locations through after-school and in-school programs, as well as through other youth-serving organizations. The First Tee programs reinforce values like integrity, respect and perseverance. And it's working. These research-proven programs are having positive impacts on their participants, their families and their communities.
Some of these communities are those that reside close to Johnston; within and around the city of Syracuse, New York. Partnering with the Syracuse City School District, the Department of Parks and Recreation of the City of Syracuse, and several adjacent school districts, is the Syracuse chapter of  The First Tee. Established in 1997, The First Tee of Syracuse strives to provide at-risk, underprivileged and other young people with the necessary skills and values that will enhance their character and outlook on life.
(Source: http://www.thefirstteesyracuse.org/about/)
Johnston
&

The First Tee of Syracuse

Locations where The First Tee programs of Syracuse operate are at Drumlins Country Club, Sunnycrest Golf Course and as of Spring 2016, the Butternut Creek Golf Course was acquired, making the First Tee of Syracuse one of only 20 chapters (throughout the organization's 180 total, globally) that owns its own golf course and driving range.

The First Tee of Syracuse was able to acquire the nine-hole, 1,365-yard Butternut Creek Course thanks to donations from a long list of benefactors that the Johnston team is more than proud to be on.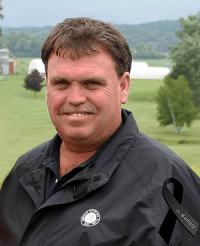 Utilizing the sponsorship's naming rights, Johnston took this opportunity to not only be a part of a great cause that instills life-enhancing values to the youth of local communities, but furthermore to pay tribute to Kris May, the late and loved co-owner of Johnston Paper, who passed away in 2013 after a brave battle with colon cancer.
How Can You Help/ Get Involved?
If you'd like to make a donation and/or a contribution of equipment or any other kind of gift to The First Tee of Syracuse, contact Peter Webber at (315) 952-8075 or email pbwebber@syr.edu
Donations may also be mailed to:
The First Tee of Syracuse
5011 Jamesville Road
Jamesville, NY 13078