Combating Cold
&

Flu Outbreaks With The Clorox Total 360 System
Schools should be a place where young minds flourish, not where illness causing viruses and bacteria reside.  With cold and flu season quickly approaching, the threat of illnesses penetrating school needs to be on the forefront school administration concerns.
Schools consist of thousands of hard to reach surfaces covered in pathogens than can spread disease.  These surfaces become even more troublesome during the cold and flu season.  When using traditional means like trigger sprays, foggers, misters and mops, these surfaces are very difficult to properly disinfect, increasing both financial and human risk.
Luckily there is a more effective method, proven to keep your schools cleaner and safer during cold and flu season while simultaneously addressing other key issues in school facility cleaning such as:
Limited Time – Most schools operate about 40 hours a week, not including after school and sports activities, leaving limited time each day to properly clean and disinfect hallways, locker rooms or gymnasiums.
Limited Labor – Traditional disinfecting methods, such as a spray bottles, foggers and mops, offer only limited coverage.
Excessive Costs – Teacher absences cost schools an average of $25 Billion annually and 60 million student absences each year from cold and flu cost schools $4.2 billion in lost resources.
A Johnston Healthy Schools Solution: The Clorox Total 360 System
Johnston is proud to partner with Clorox to offer the first system that pairs an electrostatic sprayer with a portfolio of Clorox disinfectants and sanitizers, which provide you a revolutionary way to reach and kill pathogens with a force even greater than gravity itself. Cold and Flu viruses can live for up to 7 days on surfaces, but once coming into contact with Clorox Total 360 System, these viruses wind up dead in 2 minutes or less.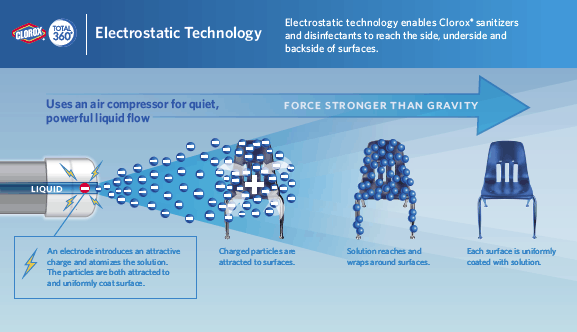 Electrostatic technology enables superior coverage of Clorox trusted solutions in the hardest to reach places – the sides, underside and backside of surfaces. Using the Clorox Total 360 and Clorox Anywhere results in a healthier facility by reducing the causes and costs associated with illness. In addition to the added safety of using the Clorox Total 360 system, it decreases overall cleaning times and helps make increase your cleaning efficiency efficient. The main benefits of switching to the Clorox Total 360 system are:
Efficiency – The Clorox 360 System cleans and sanitizes 4 times faster than a traditional clean.
Superior Coverage – Human Error due to lack of time is no longer an issue when using the Clorox 360 system. The electrostatic technology provides superior coverage: 18,000 feet/ hour to be exact, compared to 3,900 feet/hour with a trigger spray.
Cost Effectiveness – 65% less solution is used to clean a facility than otherwise would be.
Besides the cleaning and maintenance of your facilities, Johnston provides many other products used in your daily operations. Reach out to us! Visit our contact page today and have a Johnston expert contact you.
About Johnston
Johnston has always stood for reliability, commitment, quality, and service. Our heritage means years of accumulated industry knowledge, the ability to see the bigger picture, and the know-how to determine the best possible approach. Combining this mastery with the drive to deliver exceptional results, Johnston goes beyond sales, developing strategic, end-to-end tailored solutions for its customer since 1881.