Sustainable Alternatives to Plastic Straws
Once a champion of the beverage world; the plastic straw has taken quite a PR hit in the last decade.  In fact, it's pretty much become a public enemy for newer generations seeking sustainability from the beverage providers they frequent.  This is understandable when you examine the environmental impacts plastic straws are having.
What's the Damage?
It's estimated that the United States alone goes through 500 million plastic straws per day.  That's enough to circle around the globe 2.5 times. Even scarier is that each one of those straws can take up to 200 years to decompose and very few places allow them to be recycled. Plastic straws are the 11th most found ocean trash and each year 1 million seabirds and 100,000 marine animals die from ingesting plastic.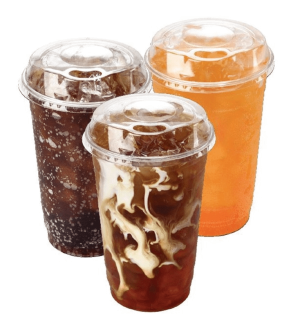 What are the Alternatives?
With statistics like these, it's no surprise that certain municipalities and local governments are beginning to place bans on plastic straws.  You never know when your area could be affected so to stay ahead of the game, we've got two great alternatives to plastic straws for your drinkware.
The Amhil Sip-Thru Lid (PET)
This unique new design is made from 100% recyclable crystal clear PET.  It has an innovative drink spout and is perfect for anything from soft drinks to iced coffee.  It fits most cups between 12 – 24 ounces included the Fabri-Kal Kal-Clear PET cups and Nexclear PP cups.  These lids provide a cost-effective recyclable alternative to plastic straws.
Johnston offers a variety of sizes and colors of paper straws through Royal.  These straws are eco-friendly and compostable.  Paper overall breaks down far quicker than plastic reducing your effect on the environment exponentially.  While paper straws are priced higher than traditional plastic straws, sustainability focused customer groups have shown a willingness to pay more for peace of mind.
How Johnston Can Help
Johnston works with leading vendors to offer sustainable food service products to suit our customers needs. Our dedicated specialists can help you identify the products and processes that are most suitable to your unique situation.
Contact a Johnston expert today to set up a time to meet and discuss your wants and needs.
Visit our contact page today!
About Johnston
Johnston has always stood for reliability, commitment, quality, and service. Our heritage means years of accumulated industry knowledge, the ability to see the bigger picture, and the know-how to determine the best possible approach. Combining this mastery with the drive to deliver exceptional results, Johnston goes beyond sales, developing strategic, end-to-end tailored solutions for each customer since 1881.